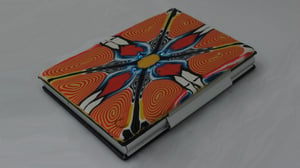 $

40.00
Spark up your office space with this card case I transformed with a satin-finish polymer clay decorative surface. Feel enthusiastic about the tasks ahead to take control of the time in your office while displaying the card case. The bright orange, black, and white palette with pops of sapphire and deep yellow accentuates my cane work pattern. I carefully anchored four Capri Blue Swarosvski crystals in center focal point of the design.
It's like jewelry for your desk.
This embellished leather and aluminum card case closes smoothly to protect your business cards, credit cards, and loyalty cards. This case weighs approximately 2.3 oz (64 g). The classic leather and aluminum rectangular card case measures 2.5 inches x 3.75 inches x 0.5 inches (6.35 cm x 9.5 cm x 1.3 cm) and holds up to 18 US or UK standard-size business cards. Shipping varies based on your destination.
The card case ships in gift box and gift orders may be shipped directly to the lucky recipient by specifying an alternate shipping address in a Note to Clyne in the order. Please allow 2 to 5 days to prepare and ship your order via United States Postal Service (USPS) worldwide.
Thanks for visiting Clyne. Join us for more at www.clynestyle.com
Item No. RH12C01